September, here we come!
REMINDER:

Our annual September closure is
Thursday, 9/9 - Tuesday 9/14.
At this time, the use of Face Masks continues to be strongly encouraged in our shop. We are a family friendly business, so we must do everything we can to protect those who are unable to be vaccinated. That being said, if you are planning a visit please help us protect ourselves and others by wearing your mask! Complementary paper masks and hand sanitizer are available, too!
---
COMING SOON...
Jewels of the Sea
For the last decade we have been searching high and low for the "Shell Runner" pattern that was a store favorite for many years. Thanks to some recent luck, and a lovey customer's help, we were able to get our hands on a copy! The original designer has given us permission to rework the pattern, so we are excited to finally introduce our rendition, "Jewels of the Sea"!
Patterns, and a small number of kits, will be available soon!
Alternate fabric choices will be available as the fall arrivals
make their way to us.
CLICK HERE TO PRE-ORDER KIT
CLICK HERE TO PRE-ORDER PATTERN
---
---
Fresh as a Daisy
The "Fresh as a Daisy" line from Moda Fabrics is the follow up collection to "Moody Bloom" which was extremely popular, and has FINALLY
come back in stock.
This stunning group features a colorful spring motif. Fabrics are scheduled to arrive in November. Once it arrived we will be kitting up approximately a dozen "Garden Lattice" kits in your choice of Throw or King size.

(King size featured above)

Along with two size options, we also have two sashing options.


See image below for color reference.

..


PRE-ORDER HERE.
---
NEW CRAFT ACTIVITY - Tissue Collage
We have added a new Craft Activity to our list of available options!
Craft Activities are available Monday - Friday, by appointment. Masks are currently required for all participants over 2.
Tissue Collage Ornament
Select your dyed papers and collage away!
Wooden frames can also be colorized to add a unique finish.
See our full Craft Activity list HERE!
---
NEW CRAFTING SUPPLIES ARE ON THE SITE!
Wooden shadow box ornament blanks are now available! Hang them on your tree, in your kitchen window or display them on an easel for everyday enjoyment. Add your favorite little beach finds and some sand to create a unique keepsake. Sold individually in store or through the website.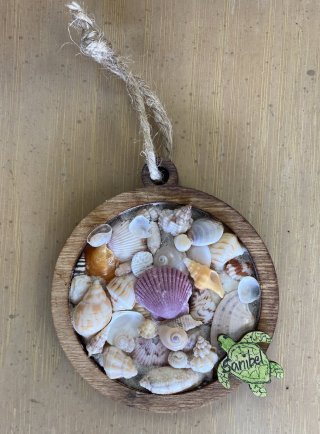 We have selected a handful of other favorites to offer online, too.
CLICK HERE to see the start of our online "Craft Supply" section!
Three Crafty Ladies
....We are sew Sanibel